Why Rice Containers are a Kitchen Essential
Why Do You Need a Rice Container?
In the State's, we've seen a surge of people cooking with rice on a regular basis. Chicken and rice has become a staple dish; in university towns, rice and beans is simply a part of life. This has happened for good reason, too. It's cheap, healthy, lasts for ages and it's a gluten-free way to get those extra carbs.
But, how do you store rice? Most Americans simply keep it in the bag it came from at the grocery store–which can get messy. Rice will get everywhere and get dirty everytime you stick your measuring cup into the bag to fish out those stubborn grains. The solution to this is to transfer the rice into a container for easier and more secure storage. A rice container.
What is a Rice Container?
Rice containers are the answer to messy rice storage. They will easily fit into your cabinet or pantry and save you from the inevitable mess caused by the common, inconvenient bag storage method. Bags and rice just don't mix without stress and potential mishaps. Prevent these mishaps, reduce stress and be more organized by simply using one of these handy contraptions. Once you start using a lot of rice, you'll want an especially big container because:
The rice will last, and

Buying rice in bulk is more economical than buying it in small bags
For these reasons, we recommend the HuBee Rice Container–an easy way to store up to 22lbs of rice.
Benefits a HuBee Rice Container
Aside from being able to store a lot of rice (22lbs), our rice container is sleek, well-designed and comes with its own scoop. It'll fit nicely just about anywhere in your kitchen. And, the best part is, it'll make you look like a rice connoisseur. Just look at it:
I, myself, really enjoy it's size. Because of my container I can buy all my rice from the bulk foods section in the grocery store. This saves money, it's better for the environment and I don't have to take as many trips to the grocery store. My life in the kitchen runs much smoother and I pretty much always have a backup meal at hand.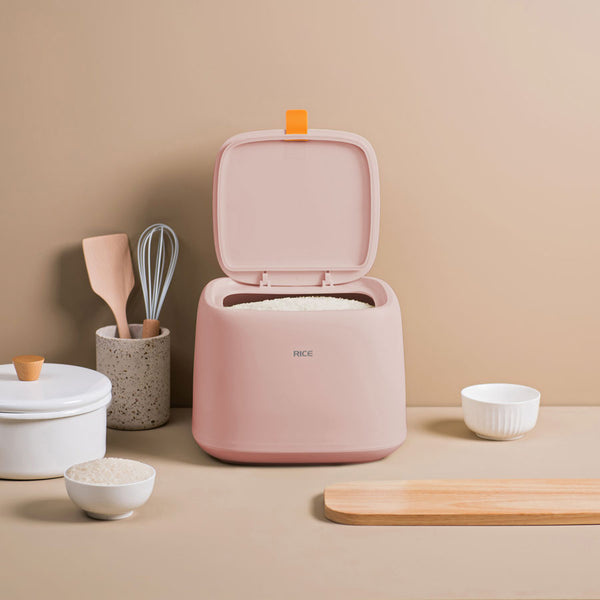 How to Clean Your Rice Container
This product has a leg up from other rice containers because of a nifty design feature located on the bottom of the contraption. Inside, you'll see a small silicone tab. This is essentially a plug for a drain hole. When you clean it out, you can channel water and all the leftover particles through the drainhole. It's as simple as:
Finish your rice or whatever else you've stored in your container.

Pull the silicone tab.

Rinse your container and drain particulates through the hole.

Let it dry.

Cover the hole with the silicone tab and it's ready for storage!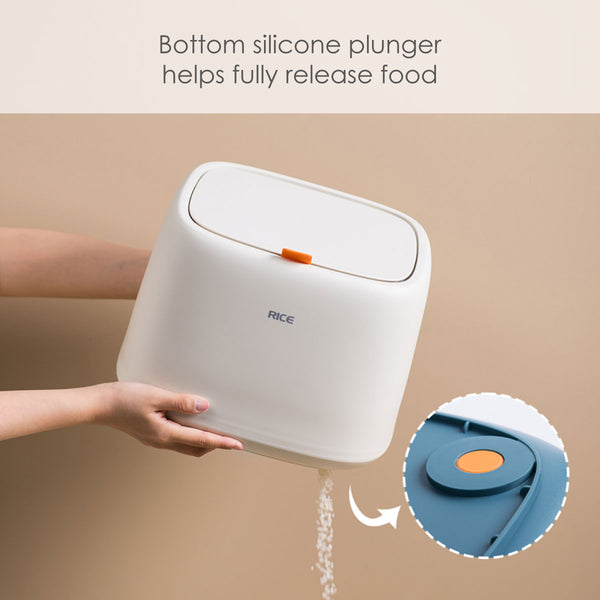 What else can you use it for?
Rice is not the only thing that you can use this container for. It's work for nearly any good that keeps for a long time and requires dry storage. If you are a big baker, it's perfect for flour. If you use a lot of oats, this container will do the trick. Flour, sugar, oats, rice, lentils, beans, sunflower seeds (although, you probably don't need 22lbs of sunflower seeds), potatoes and more–this container will handle it.

This product also serves as a useful storage device for pet food. So, if you live with a cat or a small dog, you'll appreciate this design. It will keep your furry friend's food dry and keep your apartment free of odors associated with pet food.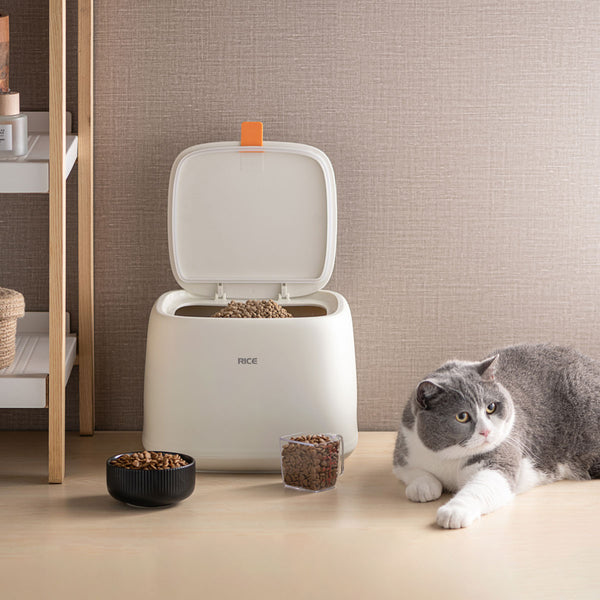 In short, a rice container is a great product to have because it will save you money, spare you from messes, and make your kitchen feel a little more relaxed. These containers are useful for so much more than just rice, too. Your pet will appreciate consistently fresh food and you'll appreciate making less grocery runs. Is it a kitchen must? I'd certainly say so.