Thanksgiving Gift Guide Article
Under $25 Range
HuBee Silicone Trivet and Coaster Set of Four (multicolor) - $18.89
This modern set includes one blue trivet, one yellow trivet, one red coaster, and one green coaster and comes in two different patterns (strip or cross). Both the coasters and trivets are food-grade silicone and heat resistant up to 428℉, which allows them to function as makeshift potholders. A great addition to both the kitchen and the living room, this set is the perfect practical yet decorative gift for the person in your life who loves to entertain.
Dash Mini Bundt Cake Maker (red) - $19.95
This adorable mini bundt maker renders a freshly baked cake in just ten minutes, making it a great option for anyone who loves to give homemade goods as gifts but might find themselves short on time. The nonstick surface makes for easy cleanup, and it's super small, so it can be easily tucked away in the cabinet. Plus, it comes with a lifter tool and recipe book featuring over sixty combinations of cakes and glazes. This mini bundt cake maker also comes in aqua.
$25-50 Range
HuBee Silicone Sphere Ice Ball Mold Set of Three (green) - $23.69
This breezy pastel green set includes three ice ball molds. Each leak-free mold yields an ice ball 2.4" in diameter and comes with a lid to prevent freezer burn/odors. Unlike other ice molds, the silicone design makes it super easy to remove the ice ball. An added bonus? The molds are dishwasher safe. This set is also available in blue and yellow. 
Emile Henry French Ceramic Ruffled Pie Dish (honey) - $39.95
This French pie dish is handcrafted from Burgundian clay which allows for uniform and even heating throughout, ensuring a proper bake. The ceramic glaze won't chip or crack over time and it keeps food warm even after being removed from the oven. This pie dish is safe for the microwave, freezer, broiler, oven, and dishwasher, which makes it an instant win in our book! With its bright color and ruffled edges, it's sure to make a stunning addition to any kitchen. This pie dish is is also available in navy, burgundy, white, and emerald green.
$50-$100 Range
Keurig K-Express Essentials Single Serve K-Cup Pod Coffee Maker (tropical blue) - $55.00
After cycling through a few Keurigs over the years, this one is a tried and true favorite of mine. Its sleek and small design is great for maximizing tiny spaces and with only four buttons it's very straightforward in terms of brewing. It comes with a 36 oz. water reservoir so there's no need to refill after each brew. It offers three different cup sizes (6, 8, or 10 oz) and can even brew back to back. This keurig is also available in black, pacific blue, cloud white, and red.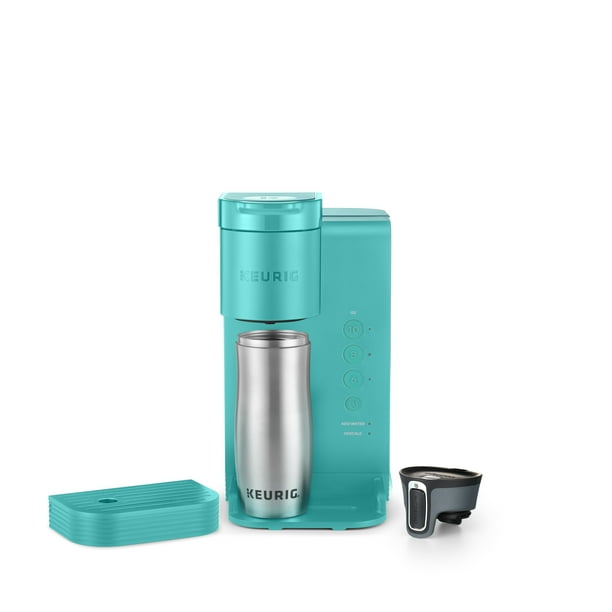 Lodge 7.5 Quart Cast Iron Enamel Dutch Oven (lilac) - $99.90
After researching quite a bit for a dutch oven that wasn't overly expensive but was still excellent quality, my parents decided on this one for me last Christmas. Porcelain enamel on cast iron allows for the perfect heat retention, plus it's also oven safe up to 500℉ and stovetop safe. The large size is perfect for family gatherings and it's big enough to roast a whole chicken for dinner. This dutch oven is also available in island spice red, storm blue, oyster, Caribbean blue, indigo, apricot, sandalwood, poppy, lagoon, and desert sage.