Super Delicious Boo-Nana & Mummy Popsicles
As the temperatures drop and the days get shorter we are looking forward to the start of Fall here on the East Coast. I have a personal appreciation for fall because it's when life starts to slow down a bit again after the bustle of summer and the shop-til-you-drop energy of the holiday season. Plus the cozy sweaters, pumpkin spice lattes, and warm fall colors are nice too!
One of the highlights of fall is definitely Halloween – the night of trick-or-treating and finding the fun in being whatever ghoul, monster, or creature you wish. 
Whether or not trick-or-treating is on your list this Halloween, I have a fun, easy (and healthy) snack idea that you can do right at home to celebrate the spookiest day of the year. If you have kids this simple recipe is one that they can help you prepare, and if you don't have kids – try this recipe anyway (they're big-kid friendly too). 
(Frozen) Ghost and Mummy Boo-nana Popsicles
These frozen banana-flavored treats can be made using whole ripe bananas,or blended bananas with added ingredients for texture and flavor (if using the latter these awesome popsicle molds are awesome!)
The best part about these popsicles is they only require three ingredients, but don't let the simplicity of this snack recipe fool you – these popsicles pack a ton of flavor into each bite. You are free to add additional toppings and ingredients but I have found that my kids love them when I keep things super simple. 
Ingredients:
4-5 Medium Ripe Bananas 
2-3 tbsp of Honey (maple syrup or agave works too)
½ to ¾ cups of cow's or alternate milk (depending on the size of the bananas) - batter should be creamy, not runny.
Melted Chocolate, or chocolate syrup (for popsicle decorating)
*Additional ingredients (optional) - vanilla extract, cocoa powder, coconut flakes, cinnamon), strawberry syrup, melted caramel, and white chocolate.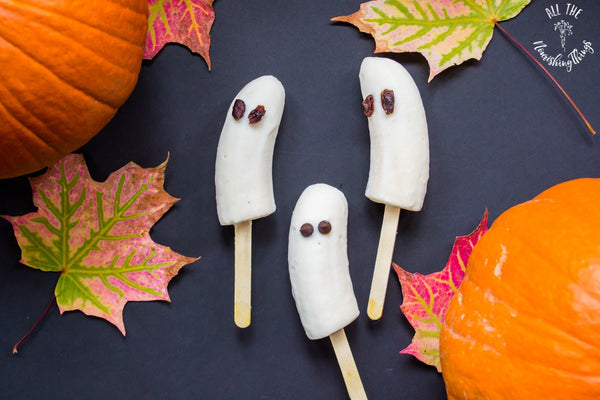 Steps:
1. Cut your bananas in half
(option #1)
or
blend bananas, honey and milk together
(option #2)
: 
For option #1 you'll only need to place popsicle sticks into the bottom of your halved bananas, drizzle them with your favorite syrup and toppings (to look like a spooky ghost or mysterious mummy), and lay them on a parchment-lined cookie sheet to freeze. 
For option #2 you will combine all of the ingredients in a blender and run until the mixture is smooth and creamy, adding optional ingredients as desired. Pour your banana batter into your popsicle molds, leaving a little space at the top of each for expansion. Insert sticks (or mold skewers) and freeze batter until popsicles harden (3-4 hours). You will remove your popsicles from their molds at this time, decorate them, and place them back into the freezer on a lined parchment paper cookie tray.
2. Freeze your decorated boo-nanas.
Option #1: Freeze for 4 hours total (option #1)
Option #2: Run the mold under warm water for a few seconds to loosen up the popsicle, and then remove them from the mold. You can then decorate your popsicles and place them back into the freezer for another hour to harden the toppings.
3. Remove from the freezer to enjoy!
Just peel your boo-nanas from the parchment paper and serve immediately.
Both options taste amazing and will give everyone a sweet and healthy Halloween-inspired treat with a bit of scary delight.
We enjoyed making and eating these boo-nanas last year, and we will be making them again this Halloween to enjoy. If you decide to give these a try, please come back and share your thoughts on the recipe.
Happy Halloween!