Lil' Monster Hot Chocolate Melts
Looking back at my childhood, trick-or-treating is one of my absolute favorite memories. My parents bundled us up and took us through the neighborhood until our pillowcases were filled to the brim with candy. Once home, we sat on the floor and went through our plunder with a Halloween movie playing in the background. My parents made us hot chocolate to warm us up and then after a slight sugar crash, we fell fast asleep.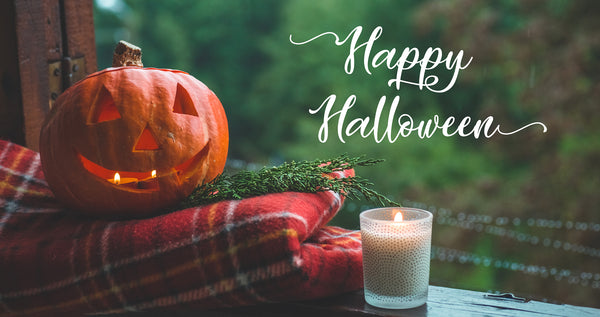 Now as an adult, I try to recreate that magic every Halloween. I decorate my house both inside and out, watch my favorite Halloween movies, drive around to look at Halloween decorations, and hand out candy to trick-or-treaters.  But, part of recreating that nostalgic magic means feeling like a child again. And what better way to feel like a child again than making new Halloween memories with your own kiddos?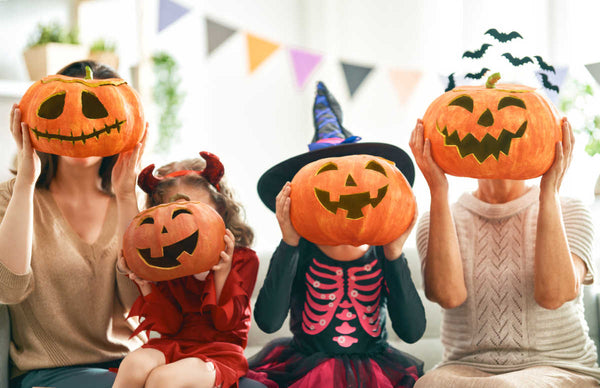 I have several Halloween recipes that I return to year after year, but this is a new one that I came up with for this spooky season. It's easy to make, relatively inexpensive, and offers interactive fun for small and big kiddos alike. It's a great way to bring your family together after an eventful night of trick-or-treating and is sure to warm up your little (or not so little) monsters and give them even sweeter dreams. 
Candy Melts
Candy melts are a super versatile staple for Halloween. Not only can you dip cookies, pretzels, or crispy cereal bars in them, but you can melt and freeze them to make hot chocolate melts. They come in many different colors, but I'm partial to green, purple, orange, and white for Halloween. If you'd prefer not to buy multiple bags of candy melts, you can buy white and dye them with neon gel food coloring to make Halloween colors. You'll want to use additional candy melts to adhere eye sprinkles to the hot chocolate melts once they're done freezing. You can also use the candy melts to decorate our super delicious boo-nana and mummy popsicles!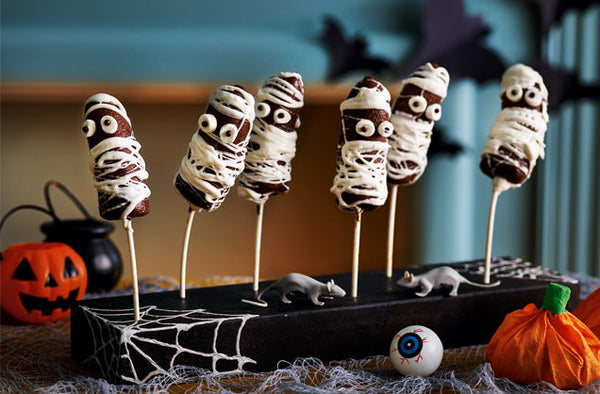 Edible Glitter Gel
I like to use edible glitter gel for creating the mouths on the hot chocolate melts. You can use leftover candy melts if you prefer, but it may be a bit more difficult as they dry rather quickly. Edible glitter gel is available in fun Halloween color multipacks right now at most grocery stores. I love using green, orange, red, and black for Halloween.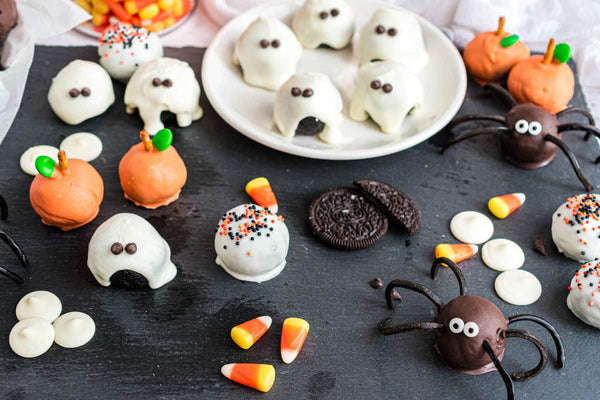 Popsicle Mold
I love this recipe because it puts my popsicle mold to great use during the chillier months. If you don't have a popsicle mold, I highly recommend the HuBee silicone popsicle mold. The silicone mold makes removing popsicles or melts super easy, plus the molds aren't overly large which works out great when you want a small treat for little ones (or for yourself!). It's especially fun for Halloween as it has adorable little details that make the little monster melts even cuter.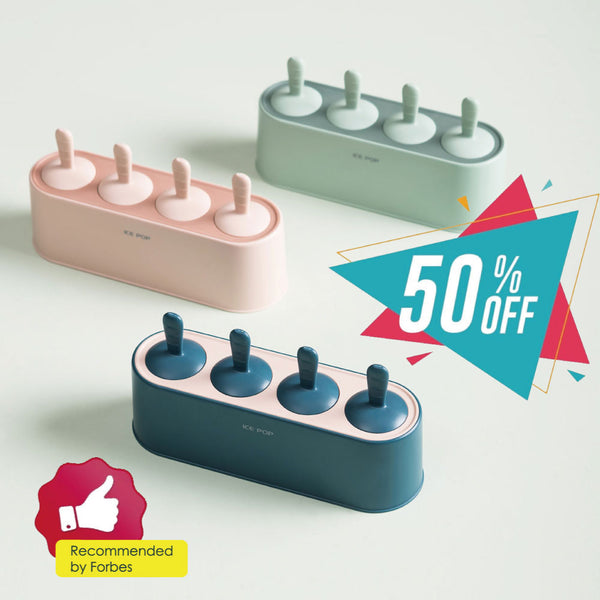 Recipe 
Prep Time: 20 minutes for assembling, 1-2 hours for freezing
Yields: 4 pops
Ingredients:
Candy melts 

Milk

Edible Glitter Gel 

Eye sprinkles
Directions:
Microwave the candy melts until they're smooth in consistency. 

Add warm milk and stir vigorously until the melts are pourable, then pour into the popsicle molds.

Freeze until firm. 

Remove the melts from the molds. 

Using a toothpick, use leftover candy melts to adhere the eye sprinkles. Use edible glitter gel to add a mouth. 

Once you're done decorating, add the hot chocolate melts to hot milk (one melt per mug) and stir until dissolved. 

Top your hot chocolate with marshmallows, whipped cream, or sprinkles, and enjoy!